Patnam Subramanya Ayyar
Jul 31, 2019 • Ananth Pattabiraman
July 31, 2019 marks the 117th death anniversary of Patnam Subramanya Ayyar (1845-1902), a great carnatic composer, performer and teacher.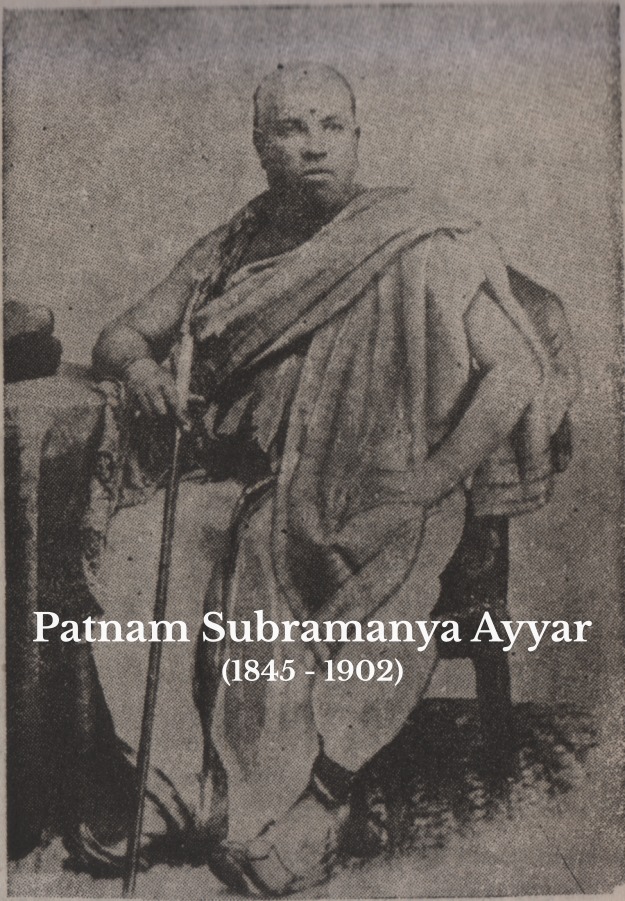 Thyagaraja Sishya Parampara
He was a second generation disciple of Saint Thyagaraja (Thyagaraja –> Manambuchavadi Venkatasubbayyar –> Patnam Subramanya Ayyar).
Composer
He was the one who composed the immortal varnams Era Napai (Thodi), Evvari Bodhana (Abhogi) and more. He not only contributed kritis, thillanas and javalis but also created the catchy and cheerful ragam Kadanakuthoohalam along with the popular kriti Raghuvamsa Sudha in the same ragam.
Performer
As a singer, he was unparalleled in rendering Begada ragam to such an extent he was fondly referred to as Begada Subramanya Ayyar. Though he was a prolific composer, he usually sang Thagaraja Swamy's compositions and rarely sang his own compositions.
Teacher
He was a master teacher too. His disciples included Ramanadapuram (Poochi) Srinivasa Ayyangar, Tiger Varathachariyar and Mysore Vasudevacharya who went on to become luminaries of carnatic music.
---
Kadana Kuthoohalam Recordings
Here is Patnam Subramanya Ayyar's Raghuvamsa Sudha in ragam Kadana Kuthoohalam rendered memorably on violin by Dwaram Venkataswamy Naidu.
This is one of the very few recordings of Dwaram that is available to us. It also captures Dwaram's unique style of playing violin which is vastly different from contemporary styles.
Raghuvamsa Sudha by Dwaram Venkataswamy Naidu (YouTube)
Yet another master piece in Kadana Kuthoohalam, a Thillana composed and sung by Mangalampalli Balamurali Krishna.